Spring Chicken rolls
Image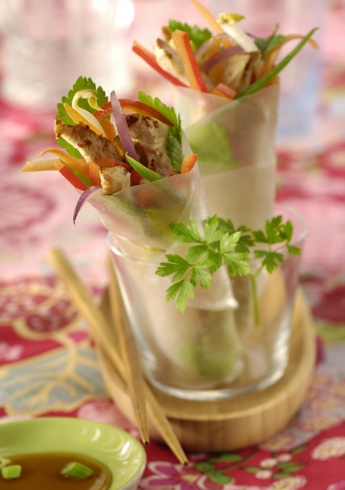 Image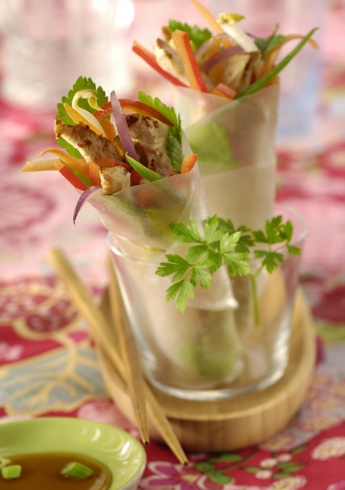 For 6 – 8 people : 

4 rice sheets
1 chicken or turkey scallop
1 soup spoon of honey
1 soup spoon of olive oil
2 medium carrots
1 small red pepper
1 small green pepper
8 large celery leaves or 8 small lettuce leaves
½ red onion or a white onion
20g of soja shoots
Fine La Baleine sea salt
Pepper
1/ Rinse the rice leaves under cold water for a few minutes to soften them. Spread them out on a tea towel to dry them. Place the rice leaves on a flat surface and cut them in two. We should obtain 8 semi circles
2/ wash the carrots, peel them, and cut them into fine sticks
3/ Wash and dry the peppers and cut them into strips
4/ Wash and dry the celery leaves
5/ Cut the onion into thin slices
6/ Heat the pan with a spoon of olive oil
7/ Cut the chicken scallop in two if it is too thick. Let it cook for a few minutes, salt and pepper, half way through cooking add the honey. Let it become golden. Once its warm cut into lengths of 6/8 cm.
8/ Place on each half leaf of rice a leaf of celery, some carrot bayonets, some peppers, a few pieces of meat a few soja shoots, and a few onion strips
9/ Fold the round part of the rice leaf on its ingredients, and start to roll at the same time making sure to keep the ingredients tightly inside.
10/ Place the rolls in a dish or glass plate. Taste them with a sweet and sour sauce.
www.labaleine.fr